Jurassic World: Dominion Dominates Fandom Wikis - The Loop
Play Sound
The Brutalist is one of the three initial classes that The New Kid can choose from in South Park: The Fractured But Whole.  Players will be able to choose this class after discovering the Coon Lair. The Brutalist is a close-range brawler that does not use weapons but instead uses fists (and gas) to do damage. 
The default Brutalist costume set is known as the Boulder Costume set. 
Super Craig and Captain Diabetes are classified as Brutalists in-game.
Tactics
The Brutalist specializes in dishing a high amount of damage at close range. All of the Brutalist abilities (bar the Ultimate ability) has the knockback attribute, which pushes enemies away, also making them bump into other enemies/obstacles for additional damage.
Although most of the Brutalist's abilities focuses on a single target, the ability Gastro Smash is able to attack up to four targets at one time, also causing a status effect known as Grossed Out; enemies affected by the status effect will receive extra damage after their turn on the battlefield ends.
The Brutalist's Ultimate ability, Full Force Fisting is one of the highest damage dealing Ultimates among the classes available; with the right Artifacts equipped, the Brutalist's Ultimate ability is able to wipe out a large portion of an enemy's health.
Abilities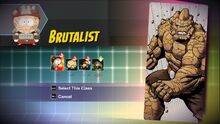 All statistics below are under Heroic difficulty, for other difficulties, still blank.
The percentage in "Damage" is the correspondent percentage of the Attribute.
Brutal Bash - Haymaker delivering justice and knockback

Range: Single tile in front of the player
Attribute: Brawn
Damage: High (240%)
Status Effect: Knockback

Wrecking Ball - Charge attack with knockback

Range: Three tiles in front of the player
Attribute: Brawn
Damage: High (175%)
Status Effect: Knockback

Gastro Smash - Knock back, damage, Gross Out Foes (all four directions at once)

Range: Single tile wide, surrounding the player in a square
Attribute: Spunk
Damage: Low (100%)
Status Effect: Knockback, Grossed Out

Full Force Fisting - Ultimate - A devastating beating

Range: Single tile in front of the player
Attribute: Brawn
Damage: High (700%)
Status Effect: None
Trivia
The Brutalist's abilities, default costume and artwork during class selection are primarily inspired by the Marvel Comics character The Thing, a member of the superhero group Fantastic Four; some cues are also taken from the character The Hulk, also of Marvel Comics.