Jurassic World: Dominion Dominates Fandom Wikis - The Loop
Play Sound
| | |
| --- | --- |
| | This article is a stub. Help by expanding it or aliens will abduct you! |
Medicinal Fried Chicken is a location in South Park: The Fractured But Whole.
Description
Spoiler Warning!

This article or plot contains spoilers from the actual game. If you do not wish to be spoiled, do not read it.


Medicinal Fried Chicken is a medical marijuana dispensary in South Park.
It is located beside the Raisins restaurant, with an open parking space sandwiched between both buildings.
The building is styled to look like a regular fast food outlet, being painted in red and white and having advertising posters pasted on its windows. However, instead of selling fast food, it sells drugs (specifically marijuana, ostensibly for medical use, but in a way also selling for recreational use).
The building is guarded with two gun turrets pointing at the entrance of the building. The turrets only can be disabled after using Timefart Pause to turn off the switch of the gun turrets located on the right side of the building's entrance.
Its most prominent appearance is in the mission Medicinal Fried Fiasco, whereby The New Kid is instructed by Classi to have her prescription obtained from MFC, in return of revealing the location of the missing cats to Coon and Friends in order for them to obtain the $100 reward to kick start their superhero franchise, beating their rivals Freedom Pals at the same time. However, upon entering MFC with The Coon, Towelie suddenly gets into a fit of rage, engaging in combat with The New Kid and The Coon together with his two employees Todd and Miles. The New Kid and The Coon is forced to burn the weed piles scattered around the inside of MFC during the combat in order to calm Towelie down. Towelie later then hands over Classi's prescription to The New Kid after being subdued by the burning weed piles.
After the battle with Towelie, the entrance to MFC will be locked for the day; however on the following day onward the entrance to MFC will be opened back, and selfies can be taken with all employees of MFC.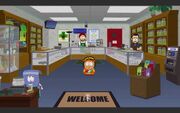 Missions
Trivia