Jurassic World: Dominion Dominates Fandom Wikis - The Loop
Play Sound
Plantmancer is a class in South Park: The Fractured But Whole. It uses the power of plants to pull, charm, and damage the enemy. As a strong support class, the Plantmancer can also heal from a distance and resurrect allies.
Tactics
With two powerful healing powers, Plantmancer is an amazing class for The New Kid that aims at helping allies. Purifying Petals can serve as a refreshment when allies retreat, and Nature's Gift can turn the battle around by reviving allies.
Sweet Scent is also a powerful ability, as none of the available combat buddies have the power to charm foes. A charmed foe has a more powerful attack, usually a 100% raise.
Root Burst is a nice ability to use, and is powerful with a big Knockback combo boost, when taking on clumps of enemies, this ability can simply push enemies into other enemies for additional damage.
Abilities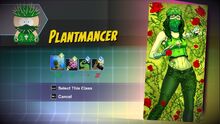 All statistics below are under Heroic difficulty, for other difficulties, still blank.
The percentage in "Damage" (or Heal) is the correspondent percentage of the Attribute.
Purifying Petals - Cleanse, Heal, Attack Up to self and allies

Range: A two tile distance surrounding the player.
Attribute: Spunk
Heal: High (300%)
Status Effect: Removes status effects and heals the player and allies in range. Also gains Attack Up.

Sweet Scent - Pull, damage and Charm a foe

Range: Four tiles in front of the player
Attribute: Brains
Damage: Moderate (210%)
Status Effect: Charm, and pull.

Root Burst - Damage, knock back, inflict Bleeding

Range: A column three tiles wide and six deep.
Attribute: Brains
Damage: Low (95%)
Status Effect: One-tile Knockback, and Bleeding

Nature's Gift - Ultimate - Resurrect the fallen

Range: Entire battle field.
Attribute: Spunk
Heal: High (300%)
Status Effect: Revives, and heals allies
Trivia
The Plantmancer's abilities, default costume and artwork during class selection are primarily inspired by the DC Comics character Poison Ivy; some cues are also taken from the character Swamp Thing, also of DC Comics (as mentioned by The Coon during the class selection screen).