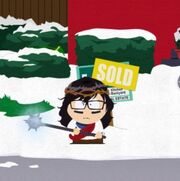 Hi! I'm a fairly recent but completely obsessed fan of South Park. I own The Stick of Truth on PC and loved every minute of every playthrough. I'm happy to help out with this Wiki in any way I can. Some other things I enjoy include Game of Thrones, Redditing, reading, and the power of mint and berries yet with a tasty, satisfying crunch.
My favorite South Park character is Kenny, closely followed by Kyle and Butters. And uh...I'm not sure what else to say, so, yeah. If you want to know even more about me, I have a list of my favorite episodes and characters on my user page at the South Park Archives. 
I am also a chat moderator now. And I have rollback rights. So respect my authoritah too. Or, um, even worse things will happen.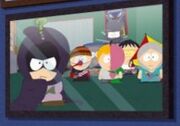 This user is an admin on South Park Game Wiki, respect their authoritah!
If you have any problems or suggestions, do not hesitate to leave a

message for this user.
| | |
| --- | --- |
| | This user participated in Project Patches for all 7 days! |
| | |
| --- | --- |
| | This user has played through the game with all classes! |