Spoiler Warning!

This article or plot contains spoilers from the actual game. If you do not wish to be spoiled, do not read it.


Vigilante Marketing is a side mission in South Park: The Fractured But Whole.
Summary
Mrs. Cartman messages The New Kid in Coonstagram, asking to meet up at her house for some assistance. She requests The New Kid to hand out some business cards to promote her new business.
Walkthrough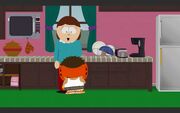 Head to the kitchen of Cartman's House. Mrs. Cartman will be present there, asking if The New Kid has lost his crown. Proceed to interact with her to initiate the mission.
A cut scene will then play, whereby Mrs. Cartman states that she loves making new friends similar to what Eric does. She will then proceed to hand over some business cards to The New Kid, suggesting The New Kid to distribute them in Skeeter's Bar.
Once the cut scene ends, proceed to make your way to Skeeter's Bar. Inside, proceed to interact with three of the patrons in the bar to hand the business cards with: the man in a navy blue sweater sitting by the left table, the man in a brown jacket and orange shirt sitting by the right table, and Mr. Donovan standing by the bar next to Skeeter as shown below:
Once the business cards has been distributed, Skeeter will then comment that Mrs. Cartman has started "working" again. Proceed to make your way back to Cartman's House to meet up with Mrs. Cartman. Before leaving though, you can proceed to take selfies with Mr. Donovan and Skeeter first.
Upon returning to Cartman's House, head back to the kitchen and interact with Mrs. Cartman. She will then thank The New Kid for helping her to distribute the business cards, she will also say that she has cooked up a treat for The New Kid.
You will be rewarded with the item Ms. Cartman's Double Stuffed Brownies, an ingredient to craft a certain mission item which will be obtained later in-game; the mission will then be fully complete, also you will be able to take a selfie with Mrs. Cartman afterwards.
Gallery